2023-24
REGISTRATION IS NOW OPEN.  Click here to register
SUMMIT WRESTLING CLUB
Boys & Girls (ages 5-12; grades Pre-K-6th)
First 2023-24 practice date is November 2nd
FREE 2-week refund period
For new wrestlers only; Complete online registration required;
Registration refunded if your child decides to not continue
during first 2 weeks of practice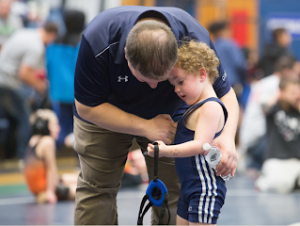 For Upcoming Tournaments in Our Area
Summit Wrestling Club
Founded in 1975, the Summit Wrestling Club has been providing an exceptional wrestling experience for children in the Abingtons for over 40 years. New and experienced wrestlers (ages 5-12; grades PreK-6th) are welcome to join. We participate in the Penn Elementary Wrestling League, with our dual matches held on Sundays from mid-November through mid-January, followed by year-end league tournaments in late January. There are also many local and regional tournaments available just every weekend from October through March. All wrestlers of every ability level have the opportunity for competitive challenges. We are fortunate to have a large, highly experienced coaching staff, all of whom have their required PA state clearances.
Valuable Life Lessons
Experience is a hard teacher. She gives the test first and the lesson afterwards. The sport of wrestling is a microcosm of society. It teaches work ethic, character, discipline, humility, and perseverance. In the confrontation between the stream and the rock, the stream always wins (not just through strength, but perseverance). Through perseverance, our wrestlers learn at the heart of every defeat lies the seed of future victory. While defeats can be heartbreaking, our wrestlers always leave the mat with dignity, pride and good sportsmanship.
Join Us
Learn about great SPORTSMANSHIP and excellent wrestling TECHNIQUES, and how to demonstrate BOTH of these in COMPETITION. Join the club and build CONFIDENCE, develop DISCIPLINE, make FRIENDS, win TROPHIES, and most of all HAVE FUN!